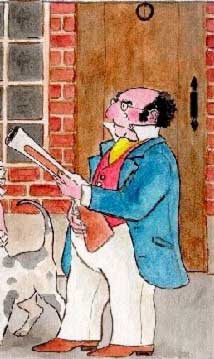 Mr. Brolly had a shop. He made umbrellas. Brolly umbrellas were very wide. They had short, stumpy handles.
One day, a new shop opened up across the street. The sign said, "BUMBERSHOOT UMBRELLAS". It showed a picture of a very narrow umbrella with a long, skinny handle.
Mr. Brolly marched across the street. "Now see here," he said. "People in this town are perfectly happy with Brolly umbrellas. No one needs silly, narrow umbrellas with long, skinny handles. You will have to go."
"I will not go," said Mr. Bumbershoot.
"This is war," said Mr. Brolly. He got his blunderbuss. He loaded it with gumballs. He went out and waited for Mr. Bumbershoot to come out of his shop.
As soon as Mr. Bumbershoot appeared, Mr. Brolly fired. KABLAM!! "Go away!" he yelled. "There is only room for one umbrella shop in this town!"