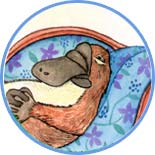 The Confusion of the Platypus
"Doctor, Doctor!" cried the platypus.
"I'm feeling most perplexed.
This crisis of identity
has really got me vexed!
My body seems quite normal
For a mammal, I am sure.
After all, I have a tail
And I'm covered up with fur.
But this bill is like a duck's
And, Doctor, please don't be amused,
But I laid some eggs this morning.
Now I really am confused!"